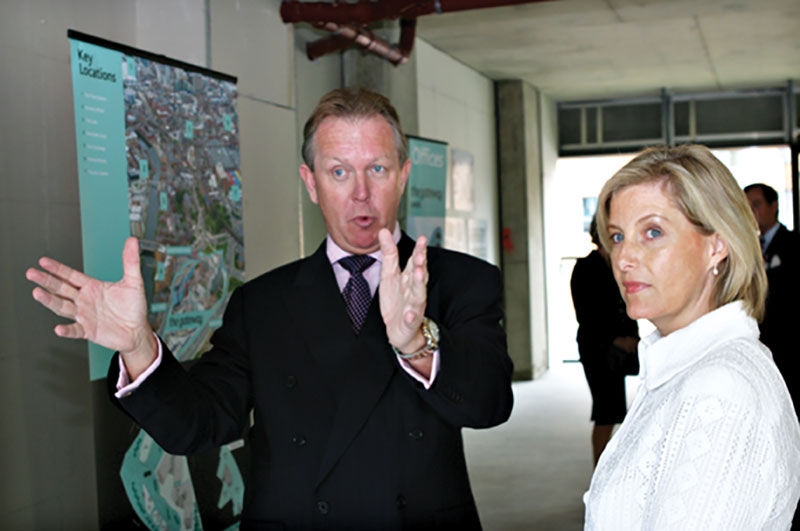 Scotfield Managing Director welcomes HRH Countess of Wessex
The Gateway (Leeds) developers Scotfield Ltd accommodated Breast Cancer Haven (now rebranded as The Haven) to fully support their first move up North, with a successful initial visit from HRH The Countess of Wessex, Breast Cancer Haven's Trustee.
The Countess met the leadership team of Breast Cancer Haven's high profile Yorkshire's Appeal Committee who launched an appeal to raise the £2.2M needed for the charity to turn the building into the warm, welcoming and healing environment that is a Haven. The Gateway developers, Scotfield Ltd, are dedicated supporters of the national charity and have pledged a substantial lead donation to the Yorkshire Appeal.
Martin Rapley, Managing Director at Scotfield Ltd said; "It was a great honour to welcome HRH The Countess of Wessex and representatives of Breast Cancer Haven to The Gateway. It's fantastic to see the continuing success of the development, with Phase One complete and work on Phase Two well under way, we are proud to continue our firm support for the charity who are sure to be a valuable addition to the scheme."
Paul Arengo Jones, Chief Executive of Breast Cancer Haven added; "This is a very exciting time for Breast Cancer Haven. Having the support of our Trustee HRH The Countess of Wessex, Carey Jones and scheme developers Scotfield Ltd means a great deal to everyone involved. Once we are successful in raising the funds we look forward to opening in Leeds and offering emotional and physical support to anyone affected by breast cancer in the Yorkshire area and beyond."
If you wish to find out more please contact The Haven
Tel:  0113 284 7829
or email
or visit www.thehaven.org.uk